Upcoming Events
Oshawa Art Association Spring Art Show,  April 15,16,  Camp Samac , Oshawa.
Lions Art in the Park,  Aug. 19, 20, Elgin Park Uxbridge
Uxbridge Studio Tour,  September 16, 17
My studio at 512 Allbright Rd is also open by appointment year round.
Hanneke Koonstra came to Canada as a young girl from the Netherlands. Art has always been an important part of her life. As an elementary school teacher for more than 20 years, she instilled an appreciation for the arts in her students and encouraged them to develop their own talents. Recently, Hanneke has focussed on water-colours and fluid acrylics, showing her work mainly in Toronto and Durham Region. She rarely leaves home without her camera, whether travelling locally or abroad, to capture a moment of inspiration to be used in future paintings. Her floral paintings are frequently of flowers cut from her garden on her rural property on the Oak Ridges Moraine.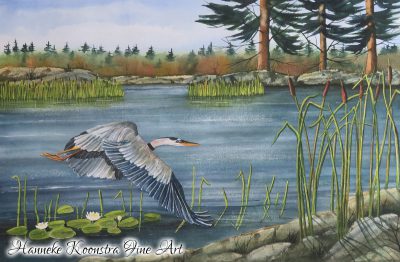 Artist Statement
I work mainly in watercolours. I like the unpredictability of watercolours. I can plan my subject matter but there is always that element of "surprise" – especially when painting a sky. Skies fascinate me. I can guide the paint but I never have complete control of it. – I am drawn to bright, deep colours and contrasts between light and shadow. Light and shadows on flowers appeal to me. I often paint large close-ups of single blooms to highlight this contrast . Landscapes usually have some human element in them: a boat, a shed, a person, or path, The darkest values complete the painting for me.
I find inspiration everywhere: the shadows on my peonies, the scenery around Uxbridge, images from my trips to Europe, throughout Canada and to the USA. I'm especially drawn to mountains and seascapes. I need to visit the ocean at least once a year.
When life's events prevent me from painting watercolours, I turn to painting acrylic and mixed media abstracts. I'm inspired to "play" with colour, texture and shapes – free to enjoy the process of applying paint onto canvas. I create whatever my mood inspires me at that moment in time rather than trying to recreate an image that has interested me. As in my watercolours, I am drawn to the brighter colours and the strong contrast between light and dark.
I am continually growing as an artist, experimenting with different media and subject matter. My work has been in juried shows, hangs in local galleries and is part of private collections in Canada. the US and Europe.
Hanneke Koonstra